Thank You for contacting OnMarkUSA. We'll get right back to you.
Return to our Home Page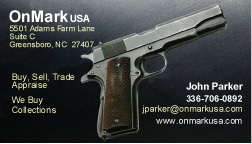 About OnMark USA
Located in Greensboro, NC, OnMark USA is a federally licensed firearms dealer (FFL). OnMark USA provides Gun Collector's Services throughout the United States. Buy, Sell, Trade or Appraise, we look forward to talking with you about your needs. Please call or email with your questions anytime!
5501-C Adams Farm Lane, Greensboro, NC 27407
Jack Cochran (336) 215 -1904 | John Parker (336) 706-0892
Privacy Policy
Copyright OnMark USA, All Rights Reserved