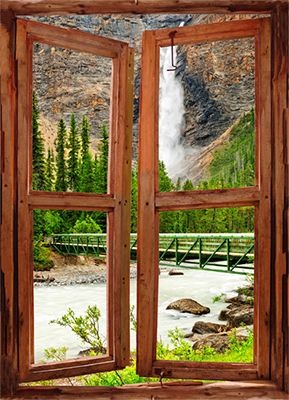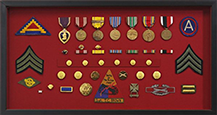 Gun Collector Services for collectors, enthusiasts and hobbyist everywhere.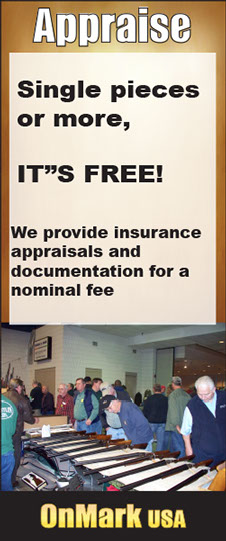 OnMark USA buys and sells all types of guns, gun accessories and memorabilia.
As a service provider to gun collectors, firearm enthusiasts and historic memorabilia collectors, we're always excited to talk with people about their interest and needs in the gun world. We buy and sell guns throughout the country, traveling to guns shows, firearm auctions, exchanging emails and photos or talking on the phone, we're always available to you.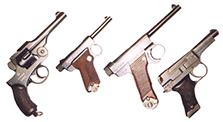 We buy guns from all eras, manufacturers and countries.
Want to sell your old flintlock, shotgun, handgun, or rifle from "who knows where? We're interested. Did someone give you a relic or firearm that you don't want or need and you want to sell it. We're interested and we will buy your gun or gun collection for cash. We pay cash for your gun regardless of the number of pieces you have for sale.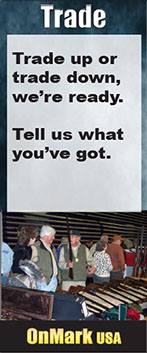 Our inventory stays fresh and varied.
We have hundreds of pieces in our inventory and we have displayed a few selected pieces here on our website. Our inventory changes often. That is, we buy and sell daily. Pieces shown may be available or may have been sold. Please call us right away with your interest or questions.
Free appraisals
Have a firearm and you don't know what it's worth today? Inherit a collection and you don't have any idea what it's worth or what to do? We're glad to help you with that too. Give us a call, send or email us a picture and we'll tell you what we know. FREE We do offer a service for those who need a written/documented appraisal for insurance purposes. We charge a small $25 fee per piece for that.
Answer a Question About you Firearm, Accessory or Miscellaneous Item
Give us a call, send us an email or come on by. We're always interested in talking with you about your needs. We'd love to hear from you.
Services We Provide
Buy single firearms, collections and estates at a fair price.
Sell quality firearms, accessories and memorabilia at a fair price.
We'll trade. Let us know what you have and what your looking for.
We offer free appraisals and also provide documented appraisals for insurance purposes for a $25 fee.
We help answer questions about firearms and firearm related items.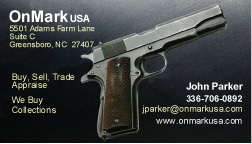 About OnMark USA
Located in Greensboro, NC, OnMark USA is a federally licensed firearms dealer (FFL). OnMark USA provides Gun Collector's Services throughout the United States. Buy, Sell, Trade or Appraise, we look forward to talking with you about your needs. Please call or email with your questions anytime!
5501-C Adams Farm Lane, Greensboro, NC 27407
Jack Cochran (336) 215 -1904 | John Parker (336) 706-0892
Privacy Policy
Copyright OnMark USA, All Rights Reserved